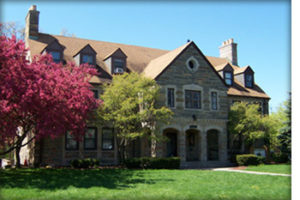 Chapter website: www.MSUDeltSigSpartans.com
National website: www.deltasig.org
Nickname: Delt Sigs
Chapter house address: 1218 E. Grand River
Flower: White Carnation
Mascot/symbol: Sphinx
Color(s): Nile Green and Carnation White
About Delta Sigma Phi at Michigan State University
Delta Sigma Phi Fraternity is a Greek social fraternity established in 1899 on "the principles of friendship and Brotherhood among college men, without respect to race of creed." Today Delta Sigma Phi continues its tradition of building better men and better lives by pursuing an active stance in equality among Brotherhood, chivalry, and morality. Chapters and their Brothers are encouraged to be vigorous in their participation with their community and their nation. Alpha Pi chapter at Michigan State University works to uphold these traditions set down in 1899 by continuing community volunteerism and scholastic achievement, but most of all by setting brotherhood as the essential part of daily fraternity life.
Philanthropy Event: Dirty Tug
The Dirty Tug is an event where we have all of Greek Life come out and compete in a tug of war competition. The only catch is the losing team falls into a pit of mud, which is why the name is identified as "Dirty Tug." Proceeds go to Jenna Kast Believe in Miracles Foundation, enriching the lives of Michigan children suffering from life-threatening conditions by granting wishes and bringing joy and hope to their lives.