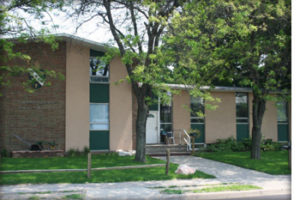 Chapter website: N/A
National website: www.farmhouse.org
Nickname: N/A
Chapter house address: 151 Bogue St.
Flower: Red and White Roses
Mascot/symbol: John Deere Model 60 Tractor
Color(s): Green and Yellow
About FarmHouse at Michigan State University
MSU FarmHouse was founded in MSU April 25, 1936. FarmHouse was created for a place where students with the common interest of agriculture or rural background could come together as one. The FarmHouse club at Michigan State University was formed in 1932 by a group of students and faculty members who were FarmHouse alumni. The club was an infant of the Depression, taking several years to charter. By the time the petition for a FarmHouse charter was accepted in 1936, the men ranked first in scholarship and held many prominent positions on campus.
Philanthropy Event: Golf Outing

Instead of the annual pedal pull, the men of FarmHouse have decided to host a charity golf outing with the benefits going to the charity, Farm safety for just kids. We will continue with the invitations to other sororities and fraternities along with other businesses and organizations in the community. Contact our philanthropy chair for further information.