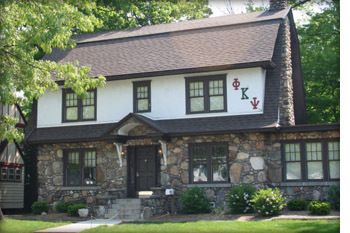 Chapter website: www.msuphipsi.com 
National website: www.phikappapsi.org
Nickname: Phi Psi
Chapter house address: 101 Woodmere Ave.
Flower: Jacqueminot Rose
Mascot/symbol: N/A
Color(s): Cardinal Red and Hunter Green
About Phi Kappa Psi at Michigan State University
The Phi Kappa Psi Fraternity is a private association of educated men who endeavor to live honorably and humanely. Its Brotherhood is open to men of talent and character, but to those in particular who as gentlemen feel an affinity with one another in the common ways of college life and, moreover, in the pursuit of excellence. Such men may differ in their origins, backgrounds, and beliefs, and even be set upon diverse purposes, interests and vocations. Yet as Brothers in Phi Kappa Psi, they are vitally united in their dedication to the highest standards of intellectual, emotional, and spiritual integrity.
Philanthropy Event: Phi Psi 500
Phi Psi Fights Hunger, as well as The Phi Psi 500 which involves working with the other Greek organizations on campus in order to complete 500+ hours community service. Our goal is to work with the community to learned better assist one another.  We also volunteer for Meals on Wheels.